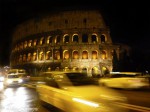 The white, 22″ LED screen slowly came to life. In stead of brightning up the room with advertisements, ominous images entered her living room. She fell right in the middle of Angels and Demons, a film based on Dan Brown's criminal thriller. It took her only a split second to recognise the city where the movie took place; she had spent a month of her life living there to learn the language. Once she had entered the city, she had never fully left it. It had never left her completely. The scents of the streets linguered in her nostrills, the faint smell of garlic, smog, and ancient history accompanied almost every memory she made there.
Her eyes were locked to the screen, the camera slowly turned the corner of a building which she knew by heart. That square was her favorite in the whole city, especially at dusk, especially at dawn. The lights underneath the flows of water of the large fountain were lit, and cast a yellowish light on the blocks of travertine that Bernini so skillfully sculted into its current form. The four gulfs of water represent the springs of the four most important rivers of the time. On screen a guy was being shot, kidnapped and throw in the back of a minivan. Off screen, she was taken fully by the memories of tumbling on the basalt cobblestones that covered the piazza.
She thought of all artists, mostly aquarel and spray painters that displayed their works each late afternoon for tourists to buy. A Colosseo of her own hung on the wall of her vestibule. Why there, and not in the livingroom? Easy. She loves how il colosseo is the first thing she sees each time she comes home, just like coming to Rome feels like coming home. Seeing it immediately when she opens her front door reminds her of how trivial the meaning of the word "home" is; it doesn't refer to a certain house, to a bunch of bricks, but to memories, places of love, of people. Home is where the heart is, and right that moment, her heart was in Rome. A piece of her heart would always be.